December 1, 2018 by: Kayla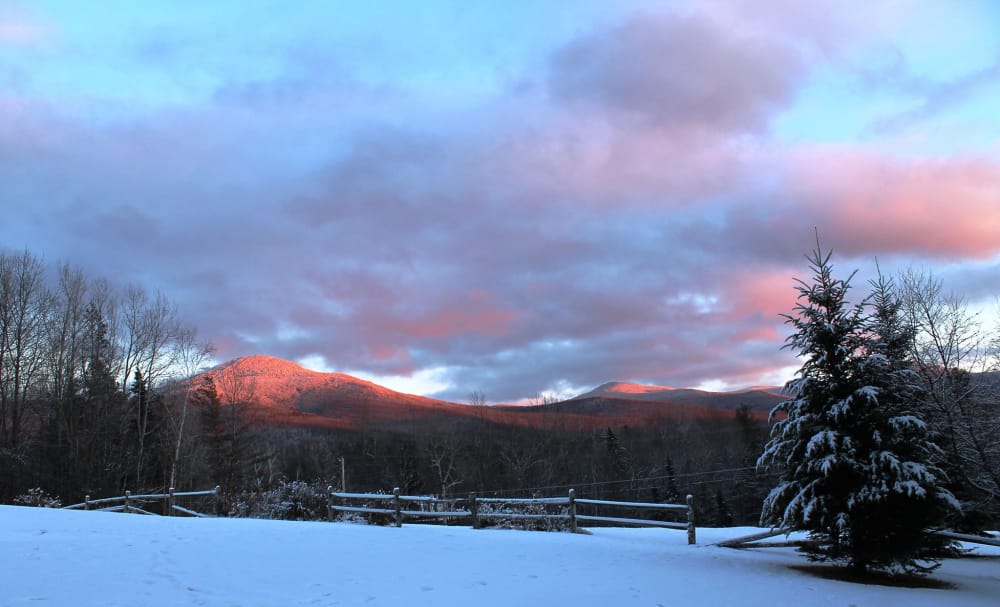 Winter Activities near Mendon, Holiday Events and More!
Hello Vermont Inn family! It is that time of year again. Enjoy the most Vermont has to offer by booking your stay at The Vermont Inn and enjoying some of the great winter festivities nearby!
WINTER ACTIVITIES:
CROSS COUNTRY SKIING: 31K of cross-country skiing or snow shoeing are available just down the road at Mountain Meadows Cross Country Ski. You can even arrange kite-boarding or kite-skiing on the lake!
DOWNHILL SKIING: For downhill enthusiasts there are many opportunities nearby. Less than 10 minutes from The Vermont Inn are two downhill ski resorts: Killington and Pico. Another nearby mountain is Okemo Mountain in Ludlow, Vermont - only 35 minutes away. All three resorts offer loads of skiing and boarding options, lessons, and other activities.
THE CATAMOUNT TRAIL: The Vermont Inn is only about 5 miles from the Catamount Trail on which you can ski the length of Vermont. We're close to Section 13 and you'll find parking at the trailhead.
SNOWMOBILING: The Vermont Inn is close to the VAST network of snowmobile trails. The Chittenden Dam area is a popular parking spot if you have your own equipment. If not, you can rent from Killington Snow Mobile Tours and take a tour close to Killington.
OUR FAVORITE LOCAL WINTER ATTRACTIONS:
Killington Ski Resort
Pico Ski Resort
Green Mountain National Forest
The Appalachian Trail
Vermont Adventure Tours
Okemo Ski Resort
Killington Snowmobile Tours
NEARBY WINTER FESTIVITIES:
Chaffee Art Center Holiday Exhibit November 30-January 5
Come experience the beauty of the arts showcased in our 1890's historic mansion decorated special for the holiday season.
Vermont Holiday Festival at Killington December 7-8
The 2018 Vermont Holiday Festival returns this year to the Killington Grand Resort Hotel. This family friendly event includes Santa's Workshop, Sleigh Rides, Vendors, Music, and more.
Vermont Farmers Market Holiday Fair Sat Dec 8th 9:00am - 4:00pm
Holiday Inn Rutland-Killington Area, 476 Holiday Drive, Rutland, VT 05701.
Distinctive Crafts, Gourmet Specialty Foods, Prepared Foods, Fall Veggies, Country Baker's Treats and more available at the Holiday Inn Conference Center! This annual event is the perfect place to prepare for the Holidays and snag homemade gifts for loved ones.
Holiday Pops -ft. the VSO Chorus Sun Dec 16th 3:00pm - 5:00pm
The Paramount Theatre, 30 Center St, Rutland, VT 05701
A festive program that ranges from an a cappella version of "Jingle Bells" to the blockbuster "Many Moods of Christmas."
98°at Christmas Monday Dec 17 8:00pm
The Paramount Theatre, 30 Center St, Rutland, VT 05701
Join 98° as they sing some of the greatest Christmas classics.
The Nutcracker Friday Dec 23 1pm & 6pm
The Paramount Theatre, 30 Center St, Rutland, VT 05701,
Experience the magic as dozens of area dance students come together to create this holiday favorite
Winter Fest Friday, February 15th through Saturday, February 23rd
The Rutland Winter Fest is a week and a half long event filled with tons of snow filled activities.